DIY a Dog Healthy Thanksgiving Dinner
It's almost Thanksgiving and with that comes Thanksgiving dinner! We all know that not 100% of what we can eat as humans is healthy for dogs, but we still love to spoil them like they are humans! Below we will outline the basics for a dog healthy Thanksgiving dinner you could eat if you wanted to!
This meal uses leftovers or extra food. Make sure to keep enough unseasoned ingredients to make your dog's feast!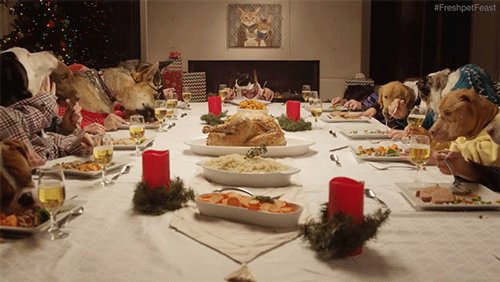 Serving size for this recipe is as follows:
Small Dogs: 3/4 cup ¦ Medium Dogs: 1 1/2 cups ¦ Large or Highly Active Dogs: 3 cups.
Ingredients:
3 lbs skinless turkey

Leftovers can be used here. Make sure to remove any skin as the fat content is extremely high. The skin will also have the most seasonings on it from the cooking process.

1 cup plain mashed potatoes

If your world-famous mashed potatoes contain garlic, onions, or a lot of butter skip this option or make a small extra blow just for your pup without all the furnishings! Garlic and onions are known for causing anemia in pets.

1lb cubed sweet potatoes

Sweet potatoes are a year-round treat that is always fun. Make sure they are plain and free of any garlic or onion seasonings.

2 tbsp cranberry sauce

Just like in humans, cranberries are good for the bladder. While cranberry sauce can be high in sugar, a small amount won't hurt your pet. Raw dried cranberries are the best way to serve your pet cranberries, but every once and awhile won't hurt.
You can either combine all the ingredients in a bowl and serve when your family eats or you can be fancy and serve individually! Add a splash of olive oil to the turkey instead of gravy for a smooth coat. The fat content in gravy is so high, dogs may get pancreatitis or stomach upset if they eat too much of it.
Happy Holidays from GVA!
Don't forget the holidays bring all sorts of hazards, so check out this video by Dr. Williams on some common holiday hazards!