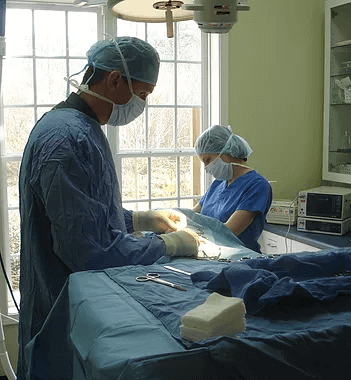 All GVA Hospitals are equipped with a sterile surgical suite, regularly maintained anesthesia machines, and a full array of vital sign monitoring equipment. We adhere to gold-standard protocols, including cap, mask and gown for all procedures. Pets are prepped outside of the surgical suite to maintain sterility, and are kept warm and monitored closely during recovery by a technician.
Our skilled doctors can perform many surgeries in-house, allowing for continuity of care for elective procedures, and minimizing transfer time in emergency situations. In some cases a pre-surgical consult will be scheduled to discuss risks, benefits, recovery, and any other concerns you may have regarding your pet's surgical procedure. 
All GVA hospitals require pre-anesthetic bloodwork before your pet's procedure, and IV fluids during surgery to maintain hydration and blood pressure. Humans have these requirements to ensure the safest surgical environment possible, and we think our pets deserve the same.
At Russell Ridge Animal Hospital we also have the ability to perform many surgeries using laparoscopic, (minimally invasive) techniques.
Soft Tissue Surgeries
Lumpectomy (tumor removal)

Airway repair for brachycephalic dogs (stenotic nares, soft palate resection)

Gastric or Intestinal foreign body removal 

Eyelid repair and enucleation

And many more
Orthopedic Surgeries