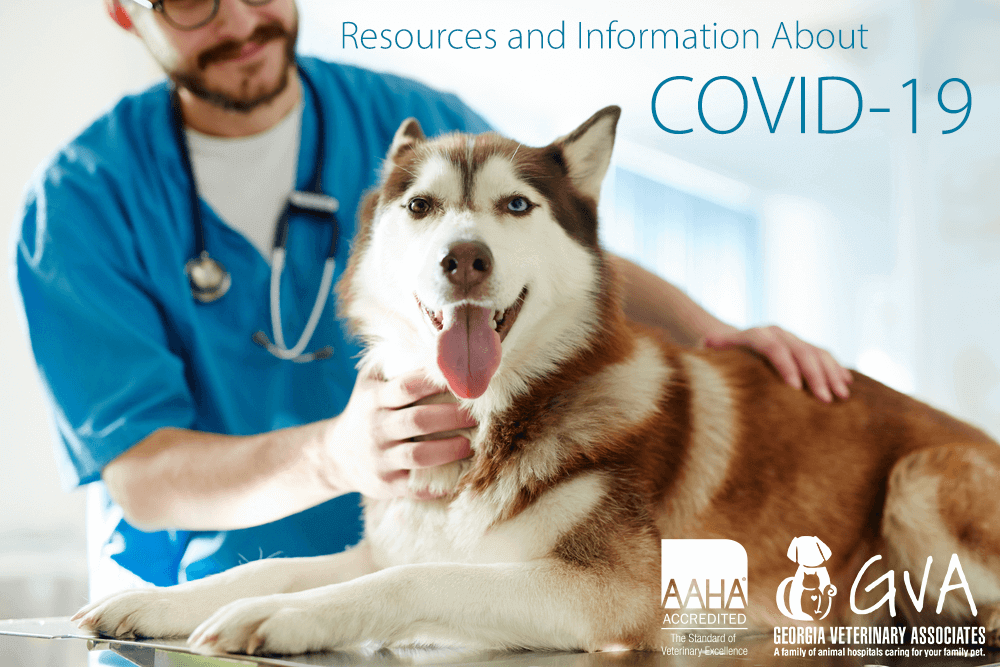 UPDATE: As of April 23rd, all Georgia Veterinary Associate Hospitals are continuing to provide Curbside Care and Virtual Visits. In order to fully protect our staff and our clients, we feel it is in everyone's best interest to continue following CDC guidelines and social distance whenever possible. What you can expect is the same level of service and medicine you know and expect from your GVA hospital.
UPDATE: As of March 20, 2020, all GVA Hospitals are now using Curbside Service to limit the amount of person-to-person contact for both our staff and our clients. If you have any questions, head over to Georgia Veterinary Associates and COVID-19 or call your local GVA hospital for more information.
Stay up to date with all things COVID-19. From your health to your pet's health, find resources and more right here from Georgia Veterinary Associates. Learn more about the COVID-19 virus on our blog here: Pets and the Novel Coronavirus.
As of April 22th, 2020: Until more is known about this virus, if you are ill with COVID-19 you should restrict contact with pets and other animals, just as you would restrict your contact with other people. When possible, have another member of your household or business care for any animals, including pets while you are sick. If you have a service animal or you must care for your animals, including pets, wear a cloth face covering; don't pet, share food, kiss, or hug them; and wash your hands before and after any contact with your pet, service animal, or other animals. You should not share dishes, drinking glasses, cups, eating utensils, towels, or bedding with other people or pets in your home. (AVMA)
Coronavirus and Pets
On April 22nd, 2020, the CDC announced the first National Veterinary Service Laboratories (NVSL) confirmed cases of SARS-Cov-2 in two pet cats. The AVMA and CDC have no information that suggests that pets night be a source of infection in people with the virus that causes COVID-19. The AVMA and the CDC recommend keeping your pet quarantined with you out of an abundance of caution. Do not let pets interact with other people or animals outside of your household, keep them indoors as much as possible, keep a 6ft distance from others when out for walks and use a short leash, and lastly, avoid dog parks or public places where a large number of dogs gather.
There is a small number of animals around the world reported to be infected with the virus that causes COVID-19, mostly after having contact with a person with COVID-19. Talk to your veterinarian if your pet gets sick or if you have any concerns about your pet's health. (CDC)
If you are sick, restrict contact with your pets, just as you would with other people. Is possible, have another member of your family care for the pet and avoid contact such as snuggling, kissing, or petting them. If you must care for your pet, wear a face covering such as a cloth and wash your hands before and after caring for them. If you are sick with COVID-19 and your pet becomes ill, please call your local veterinarian first and let them know you are sick with COVID-19.
If you have any questions about COVID-19 and Pets, please reach out to us. As of now, there is little evidence that pets are playing a large role in transmitting COVID-19 and the risk of an animal spreading COVID-19 to a human is considered to be low.
What is Coronavirus?
Coronaviruses are a type of viruses that are common in many different species of animals and can occasionally infect and spread between people.
An outbreak of novel (new) coronavirus was first detected in Wuhan City, Hubei Province, China in December 2019.
The disease caused by this virus has been named "coronavirus disease 2019" (often called "the coronavirus" or more specifically "COVID-19").
How Does it Spread?
The virus is thought to spread mainly from person-to-person.

People who are in close contact with others - about 6 feet.
Through respiratory droplets produced when an infected person coughs or sneezes.
How To Protect Yourself.
The CDC recommendations are as follows:
Wash your hands often with soap and water for at least 20 seconds. Some 20-second songs include:

"I Walk the Line" by Johnny Cash
"Hound Dog" by Elvis
"Jolene," by Dolly Parton
"Karma Chameleon," by Culture Club
"Toxic," by Britney Spears
"Livin' On a Prayer," by Bon Jovi

Use hand sanitizer when soap and water are not available. The CDC recommends using hand sanitizer that is at least 60% alcohol.
Avoid touching your eyes, nose, and mouth with unwashed hands.
How To Protect Others.
The CDC recommendations are as follows:
Stay home if you are sick except to get medical care. Call your doctor before going into their practice. Learn what to do if you think you are sick here.
Cover coughs and sneezes.
Immediately wash your hands with soap and water afterward or use hand sanitizer.
Clean and disinfect frequently touched surfaces daily.

Using bleach, you can mix 5 tbs or 1/3 cup bleach per gallon of water or 4tsp per quart of water.
Pet Informational Resources:
Client Informational Resources: